Current Updates

The Eastern Corridor Website

This website contains information about current and past Eastern Corridor Program development efforts. Questions and feedback can be shared any time by sending an email to EasternCorridor@EasternCorridor.org or by calling the Eastern Corridor Telephone Line at (513) 888-7625.
How do you travel within and through the central Eastern Corridor area? What problems do you experience?  What improvements should be made?
ODOT is asking the region

 

to join the discussion about how we can improve travel within and through the Eastern Corridor's Segment II and III Study Area (Red Bank to I-275/SR 32)
.  To help get us started, please take a few minutes and share your thoughts by participating in our easy-to-use, interactive survey. The answers you provide will help
shape transportation investments in this region
. This survey will remain open through June 15, 2016. Survey results will be shared
on this website and in a public meeting to be held in September. 
THE EASTERN CORRIDOR PROGRAM
Providing essential east-west connectivity for the Greater Cincinnati region
The Eastern Corridor Program is a regional effort that integrates roadway network improvements, new rail transit options, expanded bus service, bikeways and walking paths to improve travel and access between Greater Cincinnati's eastern communities and its central employment, economic and social centers.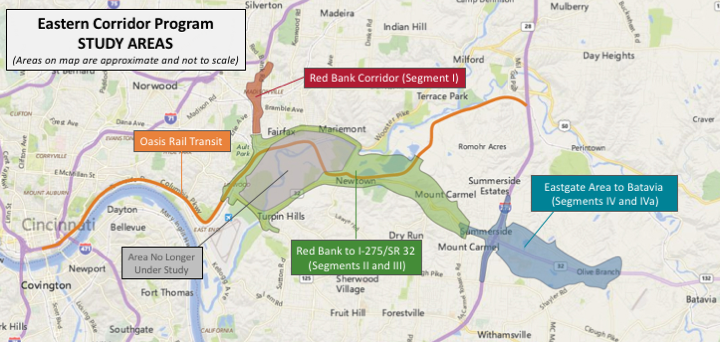 Comprised of a comprehensive series of projects, the Eastern Corridor Program will address critical congestion issues, make travel between and among the eastern communities and the region's core easier and safer, and will help get more people out of their cars, onto trains and buses, riding their bikes and walking. The Program's multi-modal solutions will address long-standing transportation needs of the Eastern Corridor communities and will provide valuable opportunities for community enhancement, economic development and sustainable regional growth.  For more, see Program Benefits.
THE EASTERN CORRIDOR PROJECTS
Currently in the second phase of study and development, the Eastern Corridor Program has been divided into four core projects. Although functionally independent, these projects are interrelated and complementary to each other. The combined completion of all projects will allow our region to realize the greatest benefit from these transportation investments. The four core Eastern Corridor projects are:
Red Bank Corridor (Segment I)
Red Bank to I-275/SR 32 (Segments II and III)
Eastgate Area to Batavia (Segments IV and IVa)
Oasis Rail Transit
The Eastern Corridor Program is administered by the Ohio Department of Transportation (ODOT), in cooperation with the local Eastern Corridor Implementation Partners. The environmental review, consultation, and other actions required by applicable Federal environmental laws for this project are being, or have been, carried-out by ODOT pursuant to 23 U.S.C. 327 and a Memorandum of Understanding dated December 11, 2015, and executed by FHWA and ODOT. Click here for more information.