Red Bank to I-275/SR 32 Overview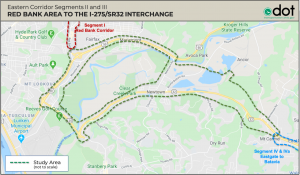 Located at the center of the Eastern Corridor region, Eastern Corridor Segments II and III extend between the Red Bank Corridor (Segment I) and the I-275/SR 32 interchange in the Eastgate area of Clermont County (Segment IV). They also include US 50/Wooster Pike, SR 125 (Beechmont Levee), and SR 32.
Previous recommendations for transportation improvements through this area focused on relocating SR 32 from where it currently meets SR 125 (Beechmont Levee) to create a new, direct connection with US 50 (Columbia Parkway) and the Red Bank corridor. After reviewing the results of in-depth studies, ODOT determined that relocating the roadway through the Little Miami River valley is not currently feasible due to potentially significant environmental impacts, and high construction costs.

STATUS
In 2017, ODOT completed a Transportation Needs Analysis for Eastern Corridor Segments II and III that used technical studies and public input to re-examine and reprioritize transportation needs and priorities within the study area. Throughout 2018, ODOT worked closely with multiple Advisory Committees made up of local community representatives, planners, and interest group members to develop and evaluate possible solutions for the needs identified in the report. Recommendations stemming from these efforts can be found in the 2019 Conceptual Alternatives Implementation Plan.
To date, several of the projects recommended in the Implementation Plan have been advanced for further planning and development. Click here for more information.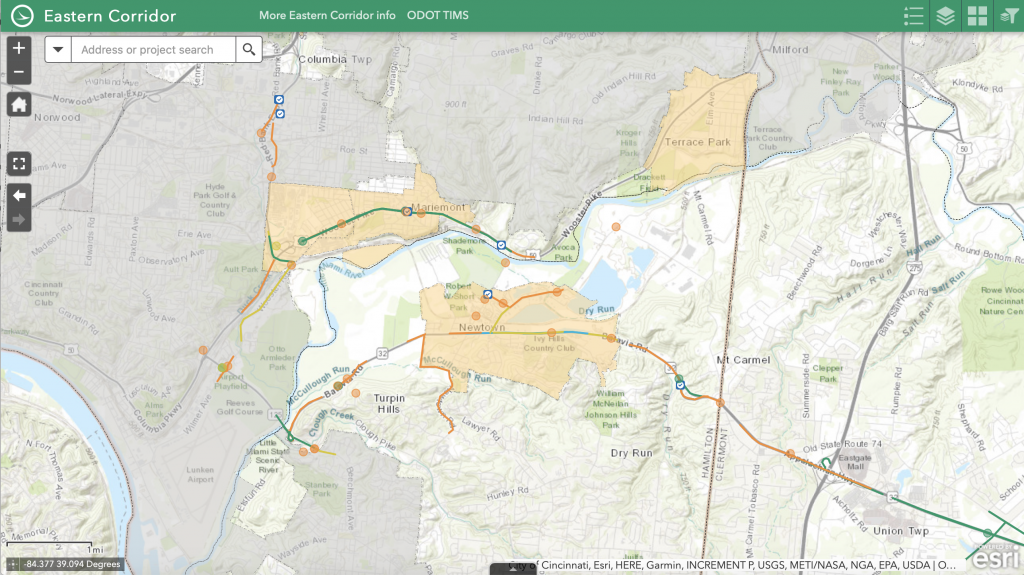 PROJECT DOCUMENTS
Click here to review additional documents and reports prepared for the planning and development of transportation improvements in Segments II and III. Recently added documents include:
Bike & Pedestrian Improvements, Beechmont Levee Area (Anderson Twp./Mt. Washington) – Feasibility Study
SR 32/Eight Mile Road Intersection Improvements – Feasibility Study
SR 32 Improvements, Village of Newtown – Feasibility Study

PUBLIC INVOLVEMENT
Public involvement has played a critical role in the planning and development of Eastern Corridor projects. Click here to learn more about Eastern Corridor Segments II and III public involvement activities.
Click the links below to view materials from recent open houses:
Bike & Pedestrian Improvements, Beechmont Levee Area (Anderson Twp./Mt. Washington)
SR 32 Improvements in the Village of Newtown
SR 32/Eight Mile Intersection Improvements
Columbia Connector Trail, Village of Mariemont/Columbia Township