---
The Red Bank Corridor project area (Segment I of the Eastern Corridor) extends approximately between US 50 (Columbia Parkway) in Fairfax and the I-71 ramp in Madisonville.  Its primary road, the Red Bank Expressway, is one of the only north-south thoroughfares east of I-71, and the local roadway network supports multiple areas that are experiencing a resurgence of development and growth.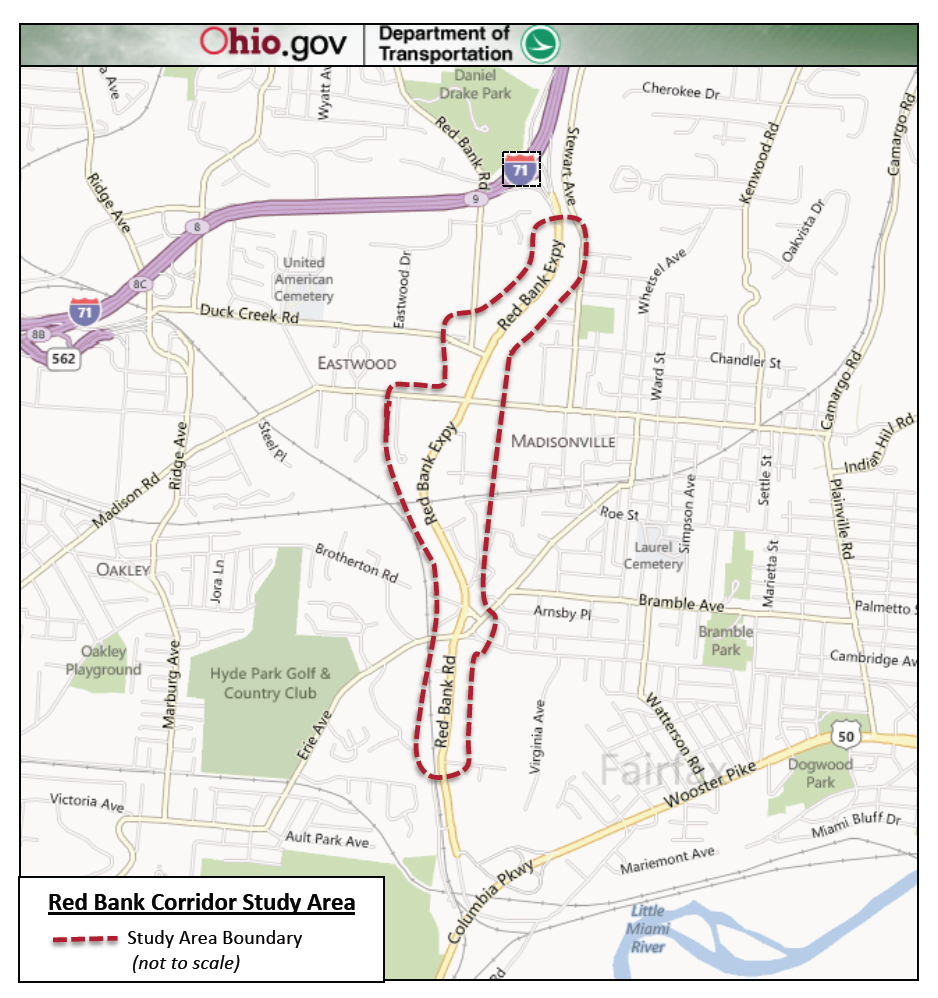 The goal of the Red Bank Corridor project is to create a balance of mobility and access through the area to better serve local communities, businesses and neighborhoods while at the same time, improve travel along this important community connector. This will be accomplished by:
Reducing existing congestion and delays along Red Bank Expressway, particularly at major intersections with Madison, Duck Creek and Brotherton roads
Improving accessibility, safety and flow of traffic
Re-establishing and enhancing local roadway network connections to address local transportation needs and provide additional opportunities for congestion management
Addressing bicyclist and pedestrian needs
PROJECT COMPONENTS
ODOT and its consultant partners have worked closely with neighborhood leaders, business owners, local schools and other interested stakeholders to define the priorities most important to them in terms of traffic management, community enhancement and development opportunities. A significant amount of work also took place in coordination with the Red Bank Community Partners Committee (CPC) to prioritize potential roadway improvements that will benefit not just motorists but also bicyclists and pedestrians.
Using the information gained, ODOT developed a series of recommendations for roadway network improvements along the Red Bank Corridor which are outlined in the Preferred Alternative Implementation Plan (January 2014). This plan also separated the recommended improvements into multiple components:
Component 1: Reconstruct Old Red Bank Road, from Red Bank Drive to Red Bank Expressway
Construct a new bridge over the Indiana & Ohio Railroad
Maintain existing access points to Old Red Bank Road, including Tompkins Avenue and new connections with Hetzel Street
Include accommodations for bicyclists and pedestrians as appropriate
Component 2: Reconstruct Hetzel Street from Red Bank Expressway to Old Red Bank Road
Relocate a portion of the City of Cincinnati Dunbar Public Services Center
Include sidewalks and bicycle accommodations as appropriate
Component 3: Extend Babson Place to Red Bank Expressway at existing location of Hetzel Street 
Remove existing right-in, right-out access on Red Bank Expressway north of this intersection
Maintain parking and access to Red Bank Plaza and Medvet
When combined with Component 2, this connection will provide alternate access to and from Madison Road
Component 4: Reconstruct and realign intersection of Brotherton, Erie and Murray Avenues
Relocate southern terminus of Old Red Bank Road to Erie Avenue from Red Bank Expressway
Evaluate consolidation of intersections
Provide accommodations for bicyclists and pedestrians as appropriate
Component 5: Extend Duck Creek Road to Madison Road near the intersection of Medpace Way (View Map)
Minimize impacts to John P. Parker Elementary School property
Modify intersection of Red Bank Expressway and Duck Creek Road for new four-legged configuration
Mainline Improvements to Red Bank Expressway: Widen Red Bank Expressway between I-71 and Hetzel Street
Add an additional through lane in each direction, with additional turn lanes as needed at Duck Creek Road and Madison Road
Adjust access patterns to existing businesses and roadways as needed
Maintain existing grades with minor adjustments
Add full-width shoulders to Red Bank Expressway north of Duck Creek Road
Bike and Pedestrian Improvements: Incorporate accommodations for bicyclists and pedestrians into mainline and local roadway network improvements
Specific details to be developed as part of project development efforts
Click here for a status update on each of the Red Bank Corridor Improvement Plan components.