Rail Vehicles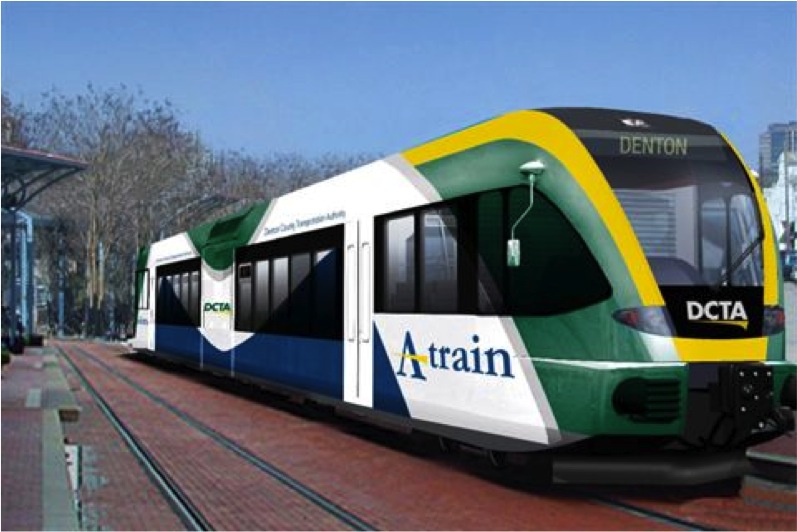 Introducing new rail transit service is an important component of the Eastern Corridor's vision of an integrated, multi-modal transportation network. Rail provides a comfortable, environmentally-friendly option for those who cannot or prefer not to drive.
The rail vehicle (or train) is probably the most tangible element associated with a rail system.
While the specific vehicles remain under consideration, the Eastern Corridor Program Partners have determined that trains powered by modern, low-noise, low-emission diesel-multiple unit (DMU) technology best match the service characteristics and needs of the Oasis rail corridor and the communities the line would serve, and have recommended using them on the line.
[ec_clear /]
Specifically designed for local and regional service, DMU rail vehicles are:
SELF-PROPELLED AND EFFICIENT
Unlike heavier locomotives pulling passenger coaches, DMU vehicles provide their own power through highly-efficient, low-emission engines within the vehicles. No overhead electrical system or electrified tracks are required, reducing initial capital costs and facilitating joint-use with freight operations on those segments where freight still operates and during defined operating windows.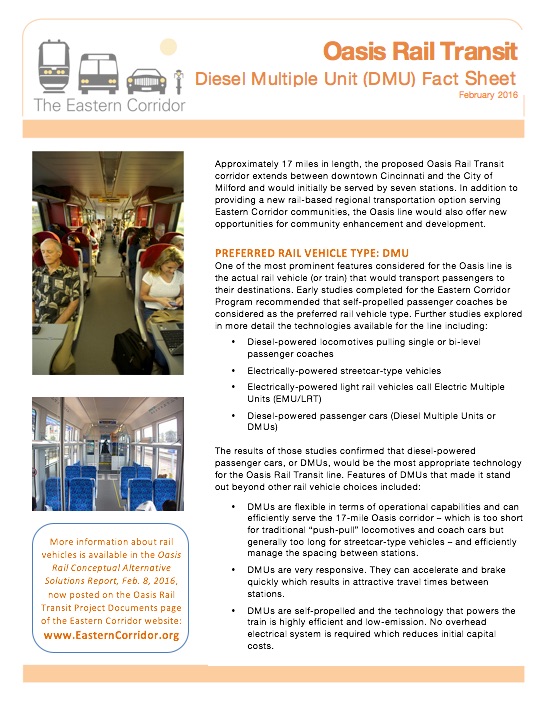 These vehicles offer fuel efficiency, fast acceleration, simplified maintenance, and reduced staffing over conventional commuter rail services – just a single vehicle operator is required.

QUIET
DMU vehicles are quieter than conventional locomotive-powered passenger trains or freight trains, which minimizes noise impacts on properties adjacent to the rail corridor. Moreover, their design and construction act to reduce noise levels for passengers as well.
COMFORTABLE

Passengers enjoy easy boarding and comfortable seating on DMU vehciles. The rail cars are fully ADA-compliant and can feature overhead storage, tie-downs for bicycles and other amenities such as onboard Wi-Fi.
ATTRACTIVE
The sleek, modern design and expansive windows offered by DMU vehicles provide an appealing transportation option that links the communities they serve.
PROVEN IN SERVICE

DMU vehicles being considered for the Oasis line are operating throughout the United States and Canada, with more service currently under design and construction. Rail services similar to the Oasis line include: 
[ec_clear /]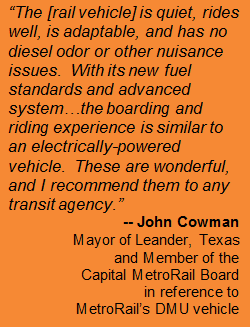 Sprinter (North County Transit District, Oceanside, CA): Service between Oceanside and Escondido, California
Westside Express Service (WES) (TriMet): Service between Wilsonville and Beaverton, Oregon (Metro Portland region)
River Line (New Jersey Transit): Service between Camden and Trenton, New Jersey.
A Train (Denton County Transportation Authority): Service between Denton and Carrollton, Texas
Capitol MetroRail (Capital Metropolitan Transportation Authority): Service between Austin and Leander, Texas
O-Train (Ottawa, Ontario, Canada): Service between the Bayview and Greenboro stations, Ontario
Sonoma-Marin Area Rail Transit (under development): Service between Larkspur (San Francisco Bay Area, Marin County) and Cloverdale, California
Toronto Airport Union – Pearson Express: Service between the airport and downtown Tornoto, Canada
[ec_clear /]
The following videos show DMU
trains in action:
MetroRail – Austin, TX (6 minutes 44 seconds)
Dallas Area Rapid Transit Light Rail – Denton County, TX (46 seconds)
Denton County (TX) Transportation Authority — Stadler GTW 2/6 DMU (1 minute 46 seconds)
Denton County (TX) Transportation Authority – Stadler GTW DMU (3 minutes, 57 seconds)
Sprinter – San Diego, CA (4 minutes, 8 seconds)

FRA COMPLIANCE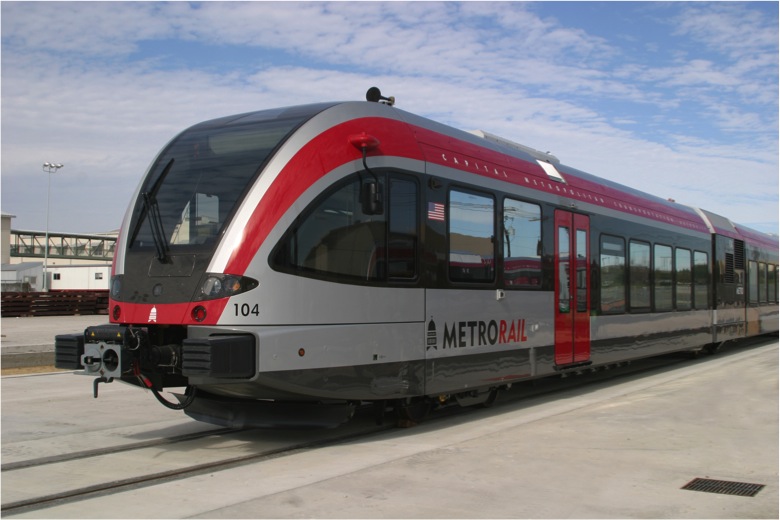 As proposed, portions of the Oasis Rail Transit line could share tracks already in place and in use
by freight trains. The Federal Rail Administration (FRA) requires that trains sharing tracks with freight operations either be FRA Compliant or FRA Alternatively Compliant vehicles.
FRA Alternatively Compliant Vehicles

Require a waiver from FRA in order to operate on tracks shared with freight trains
Feature a lighter, European design
Are experiencing a surge in US demand [ec_clear /]

FRA Compliant Vehicles

Are already approved to operate on tracks shared with freight trains, without restrictions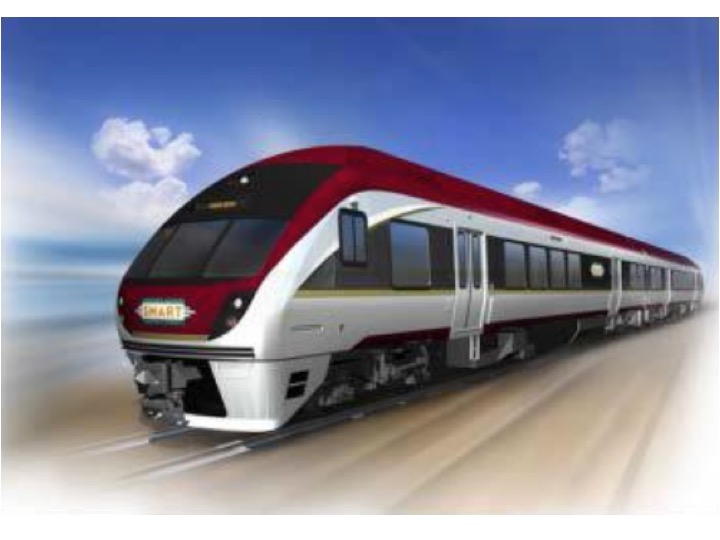 Tend to be somewhat bigger and heavier than Alternatively-Compliant vehicles
Feature higher floors which may require taller, more expensive station platforms
Although both of these vehicle types address the needs of the Oasis line and offer the features desired, the Eastern Corridor Program Partners and the public have identified the lighter-weight, FRA Alternatively Compliant DMU as the preferred rail vehicle type for the Oasis Rail Transit line.