Bike Connections
The expansion of bicycle-based travel options has been an important element of Eastern Corridor improvements since the Program's inception in 1999.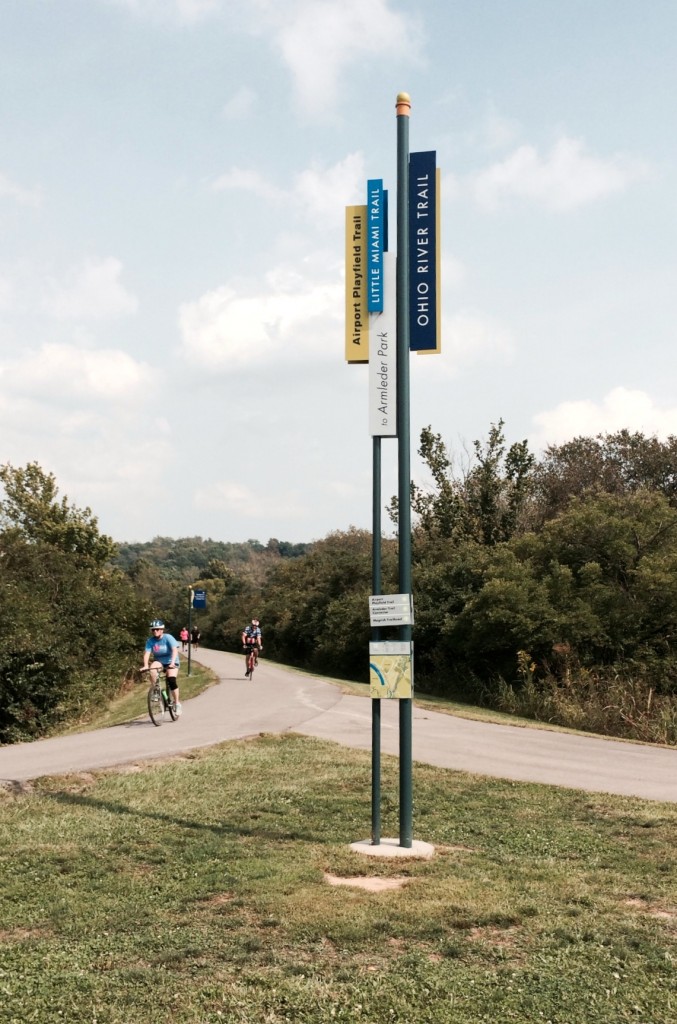 Many planning and development studies, including the 2002 Land Use Vision Plan and 2005 Green Infrastructure Concept Master Plan, have helped shape and document local visions for new bicycle connections throughout the region.
Since then, the bicycle path network within the Eastern Corridor has been greatly expanded through the individual and joint efforts of local communities, bicycle advocacy groups, Hamilton County, the City of Cincinnati, ODOT and OKI, and more are being planned:
Hike/Bike Trail over the Little Miami River – Complete
– Milford to Avoca Park – Complete
– North Loop – Pending
Ohio River Trail
– Five Mile to Sutton Rd. – Complete
– Sutton Rd. to Salem Rd. (along Kellogg Ave.) – Prelim. design complete; funding needed
– Salem Rd. to Lunken to Corbin St. – Complete
– Corbin to Collins – Design complete; funding needed
– Collins to Friendship Park – Concept complete; funding needed
– Friendship Park to Downtown – In progress with Riverfront Park construction
Five Mile Road Shared Use Trail – Complete
Wooster Pike Bike Path (Terrace Park) – Complete
Murray Road Hike/Bike Trail – Complete
Ohio River Trail Map, Summer 2014
BIKE INCLUSION IN THE CORE EASTERN CORRIDOR PROJECTS 
In addition to the bike connections listed above, more are being planned as part of the Eastern Corridor Program's four core projects.
Red Bank Corridor Project
Improvements being planned for the Red Bank Corridor as discussed in the Preferred Alternative Implementation Plan will expand connectivity for bicyclists through the project area. A bike/pedestrian advisory subcommittee is being formed to provide recommendations on connections needed to existing and/or proposed bike linkages within the area. Specific details will be developed during upcoming project planning phases.
SR 32 Relocation Project
Multiple bike paths already exist throughout the SR 32 Relocation project area. As part of the proposed roadway relocation project, additional paths could be constructed in conjunction with the relocated roadway and the Oasis Rail Transit line–either alongside the relocated roadway or along an alternate alignment—providing additional route alternatives for bicyclists. These options will be explored in more depth and community input will be sought as the project advances in development and potential project alternatives are more clearly defined.
Oasis Rail Transit Project
Oasis project planners and the Eastern Corridor Implementation Partners are actively working with local interest groups, stakeholders and rail operators to clearly define how best to integrate both rail and trails along the Oasis Rail Transit corridor. Topics currently undergoing in-depth study and discussion include: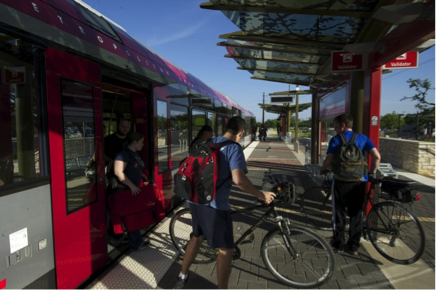 Federal Transit Authority (FTA) regulations pertaining to shared-use corridors
Railroad/Rail Operator regulations and restrictions regarding shared-use corridors
Determination of the space needed to provide proposed Oasis Rail Transit service levels (how many tracks are needed and how wide must the right of way be?)
Local community preferences
There are multiple options to be considered, particularly between Lunken Airport and downtown: a bike path could potentially follow the Oasis Rail Transit corridor; it could travel along the riverfront; or, it could follow an alternate route to be established between the Ohio River and Columbia Parkway (US 50). Regardless of which option is ultimately selected, providing accommodations for bicyclists is an important part of the Oasis project.
Oasis Transit stations would also be more than simply stops for the train. These transportation hubs are envisioned as community gathering spaces that provide access and connections supporting many modes of travel: train, car, bike, bus, and even walking. Bike-friendly features such as bike paths, access ramps, bike racks, and level boarding options could be incorporated into station area designs. Community input will help further hone in on the possibilities to be considered. Click here to learn more about the Oasis Rail Transit stations.
MORE INFORMATION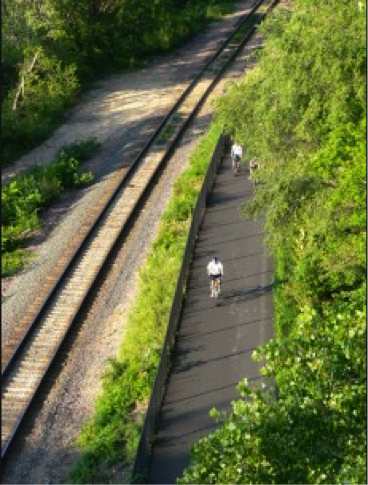 Visit these Eastern Corridor Implementation Partner sites for more information about bicycle programs within the Greater Cincinnati region: