Open House meetings have been scheduled for Feb. 24 and Feb. 25, 2016, to share the results of several studies that evaluated feasible alternatives for the rail project and potential options for implementation.  Click here for more information.
Offering a new transportation alternative to the Greater Cincinnati region, Oasis Rail Transit is a commuter rail line that will transport residents, workers and visitors between downtown Cincinnati and the communities extending east through Hamilton County and into western Clermont County.
The rail line is supportive of transit, bicycle and walking-based travel and can reduce reliance on cars as a primary mode of local transportation.  It can also help stimulate community enhancement, revitalization and economic growth opportunities through on-going service and Transit-Oriented Developments (TODs) that could envelop the line's rail stations. TODs are walkable, mixed-used community spaces that typically include office, retail, residential and social gathering facilities.
The Oasis Rail Transit line is a foundation upon which Greater Cincinnati's envisioned regional rail system could ultimately be built to better connect our region – from Hamilton, Clermont, Butler, and Warren counties in Ohio to Campbell and Kenton counties in northern Kentucky and locations in southern Indiana.
WHY RAIL?
Rail offers a new, regional scale transportation alternative to driving.  It helps reduce congestion, which in turn can reduce the need for additional roadway expansions and reduce associated vehicle emissions—all critical components for meeting local mobility and air quality needs.  Rail:
Improves regional connectivity
Increases mobility for everyone – drivers and non-drivers alike
Expands travels options by coordinating with transit and other active-transportation modes such as bicycling and walking
Connects people to jobs, regional attractions and major recreational destinations
Supports neighborhood development and revitalization
Reduces the demand for new road capacity while providing a new way to meet future travel demand
Links to and supports the Eastern Corridor's multi-modal transportation vision and land use plan

THE ROUTE
The proposed Oasis Rail Transit corridor extends roughly 17 miles between downtown's Riverfront Transit Center and I-275 in Milford.  Much of its alignment would use publicly-owned rail right-of-way and could use existing freight lines.  In other places, new tracks will be built to complete the necessary connections.
For planning purposes, the Oasis line is divided into four segments which will be constructed in phases: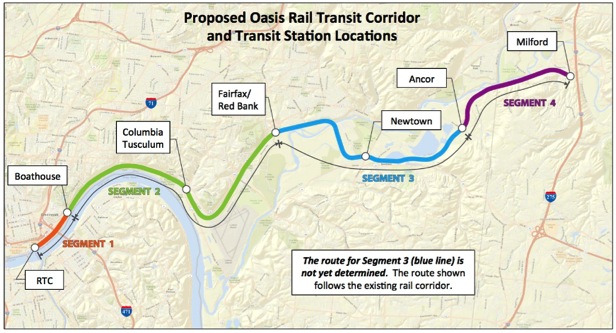 Segment 1:
Riverfront Transit Center to the Boathouse
(1 mile)
Segment 2:
Boathouse to US 50 in Fairfax (7 miles)
Segment 3:
US 50 in Fairfax to Ancor area, slightly northeast of Newtown (4 miles)*
Segment 4:
Ancor area to Milford (5 miles)
* Segment 3 may run alongside portions of the relocated SR 32 or on an alternate alignment.  Specific route alternatives are currently under development. 
In addition, the Eastern Corridor Implementation Partners are currently exploring opportunities to expand rail in other areas, including use of the Wasson line to connect with rapidly growing business and commercial centers such as the Eastgate area.
THE STATIONS
Transit stations for the Oasis rail line are more than just stops along the way.  They provide valuable opportunities for community enhancement and development.  The stations planned can be shaped based on the visions of the communities in which the stations are located, the opportunities that exist for growth, and public input.  Transit-Oriented Development that could follow station creation can be a catalyst for:
Reinforcing and enhancing traditional neighborhoods and towns
Revitalizing and/or re-developing by-passed and under-utilized properties
Redefining growth patterns to create walkable, mixed-use community spaces
Click here for more information on Transit-Oriented Development
As part of the current Tier 2 study, the planning team has completed a comprehensive analysis of the 10 station locations proposed in the 2006 Tier 1 Final Environmental Impact Statement (FEIS).  Following the in-depth evaluation, seven stations have been recommended for development:
Riverfront Transit Center (Downtown Cincinnati)
Boathouse (East Riverfront, in the Adams Crossing area)
Columbia Tusculum (at Columbia Parkway and Delta Avenue)
Fairfax/Red Bank area
Newtown Area
Ancor/Broadwell Road Area (slightly northeast of Newtown)
Milford (near the I-275/US 50 interchange)
Plans for the seven stations and the area surrounding them will be developed as part of the current study. The Boathouse station would be used for special event service only.  Future development of the remaining three proposed stations [East End area (near Torrence Parkway), Lunken Airport (along Wilmer Avenue), and Beechmont Avenue (near Wooster Pike)] would be reserved pending ridership demand and available funding.

OASIS RAIL TRANSIT PROJECT COMPONENTS
The Oasis Rail Transit project is currently in the preliminary and environmental planning phase.  Initial concepts for the rail line were developed in earlier phases of the Eastern Corridor Program.  Now, ODOT and the project team are advancing from generalizations to details.  Current efforts are focused on obtaining gathering the information and data needed to make decisions regarding implementation of the Oasis line and include:
Evaluating rail alignment options and identifying locally-preferred alternatives
Determining the type of trains to be used
Developing ridership projections
Preparing a conceptual operation plan (hours of operation, frequency of trains, number of stops, etc.)
Evaluating and selecting station locations
Developing conceptual station area land use plans
Preparing construction and operation cost estimates