Eastern Corridor Segments II and III are located at the center of the Eastern Corridor region.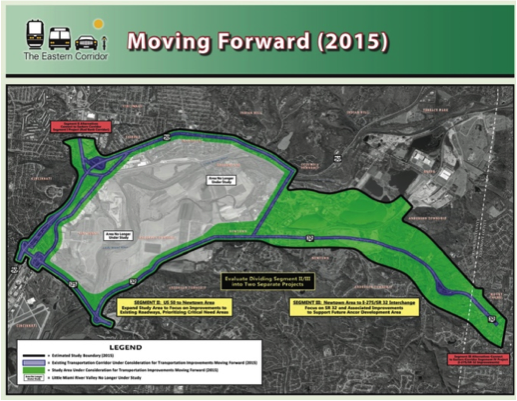 Together, they extend between the Red Bank Corridor (Segment I) and the I-275/SR 32 interchange in the Eastgate Area of Clermont County (Segment IV) and encompass the roads in between, including US 50/Wooster Pike, SR 125/Beechmont Levee and SR 32.
Previous recommendations for transportation improvements through this area (as outlined in the Tier 1 Record of Decision) focused on shifting the western end of SR 32 from where it currently stops at SR 125 (Beechmont Avenue) to a new, direct connection with US 50 (Columbia Parkway) and the Red Bank corridor. After completing in-depth studies to better define the proposed project, identify possible new alignments and related environmental and cultural impacts and gather public input, ODOT determined that relocating the roadway through the Little Miami River valley is not a feasible option due to potentially significant environmental impacts and construction costs.
However, congestion, travel delays and safety issues still exist through this central portion of the Eastern Corridor and transportation improvements are still needed to address regional network inadequacies and poor linkage to major economic, recreational and employment centers.

MOVING FORWARD
Eastern Corridor planners are now shifting their focus toward the existing transportation network throughout Segments II and III. Instead of considering a single large-scale transformative project, planners are looking at what can be accomplished by making a series of lower-impact improvements to the network already in place.
ODOT is working to refine and revisit local and regional transportation needs, concerns and priorities as well as review updated technical data, such as traffic volumes and crash rates. The information gained will be calibrated with existing physical, environmental and funding considerations and the results will be used to establish improvement goals to guide transportation investments decisions for the area.

NEXT STEPS
ODOT intends to present the results of the information gathered to the public within the next few months and expects to begin working on developing improvement alternatives soon after.

ADDITIONAL INFORMATION RESOURCES 
This page will continue to be updated as new information becomes available.
---
Community input is integral to the development of this project. Your feedback will be used to help shape the improvements to be made. Click here to share comments and questions with the planning team or send an email to EasternCorridor@EasternCorridor.org.
To sign up to receive Eastern Corridor Program updates, click here and enter your email address in the message section of the Submit Feedback form.